What is Telehealth? How does it work?
How often do you agree that the Internet has changed modern life? The Internet has probably changed how you stay in touch with family and friends. It has changed the traditional purchasing methods and services. It is helpful to search for information about health-related issues.
A variety of telehealth tools are available that help you manage your health care and receive the services you need. Are you taking advantage of them?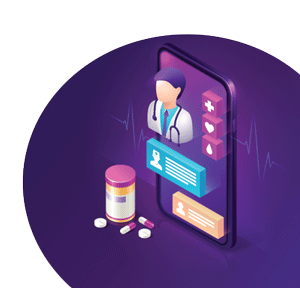 Whether women's health issues, old age health problems or other health conditions, our nurse practitioners are available Monday through Friday during business hours in physical sitting and telehealth remote services.
Telehealth is the delivery of health-related services. You can get the information via electronic communication like phones and the Internet. The terms telemedicine and telehealth services can be used vice-versa. But both of the terms have different definitions. Telemedicine refers to the remote delivery of telehealth services and clinical information using telecommunications technology, such as the Internet, wireless, satellite, and telephones.
Telehealth is defined as electronic communications to share medical information to improve patients' health from one place to another. Telehealth is an extension of telemedicine. But telemedicine mainly focuses on curative aspects of health. It encompasses promotive, preventive, and curative aspects of health. Many different healthcare professions are involved in its delivery.
What is Telehealth?
Telehealth, sometimes called telemedicine, uses digital devices and communication technologies like smartphones and computers to take care of your health. These may be technologies you operate from home or your doctor to improve health care services. Telehealth services don't need you to visit your doctor for in-person health care. Telehealth is primarily done online with internet access on your device. There are several options for using telehealth services, as mentioned below:
You can use mobile phones and other devices to upload your intake, food logs, medications, dosing, and blood sugar levels for review. The nurse reviews the data and responds to you electronically.
You can watch the video on the mobile phone regarding the carbohydrate calculation and download an application to your phone to keep track of your intake of carbohydrates. You can use the application to estimate how much insulin you need based on your daily diet and exercise level.
You can use the online patient portal. With its help, you can see your test results and schedule appointments with your doctors. You can request the prescription refills and email your doctor. The applications could be helpful for the online testing supplies and medications online.
How does Telehealth Work?
Telehealth services are helpful in several ways. You can get a diversity of specialized care through telehealth with ease. Telehealth is beneficial for monitoring and improving ongoing health issues, such as medication changes or chronic health conditions.
Your doctor will decide whether telehealth is suitable for your health needs. You can ask your doctor about what your telehealth options are available, especially if you are worried about the health risk of COVID-19.
Patient Portal: Online patient portal is like your primary care clinic. The portal helps you speak with your doctor and the nurse. You can request prescription refills. Portal is helpful enough to review the test results and summaries of the previous visits. You can easily schedule appointments and request appointment reminders with the help of the patient portal.
Virtual Appointments: Some clinics provide virtual appointments to see your doctor or a nurse via online videoconferencing. These appointments will allow you to receive ongoing care from your regular doctor. In case an in-person visit isn't required or possible. Other virtual appointments include web-based connections with a doctor or nurse practitioner.
Who Benefits from Telehealth Services?
Telehealth services can be beneficial for people who cannot visit the doctor. It could be any reason, like health issues, a busy schedule, and the unavailability of a physical appointment. These days virtual visits are growing in popularity. Though in-person office visits may be necessary for some instances, telehealth services have many benefits.
In the wake of coronavirus, limiting physical contact is essential, which will help reduce everyone's exposure to Covid-19.
You can get the health care expert at the available location whether you are at your home, work, or even in the middle of traveling.
You can save travel time with the help of virtual visits. It is not required to take time off from your office or work.
Virtual appointments are scheduled according to the mentioned time. There is no requirement to wait for your turn. No doubt, it can shorten the wait time for your appointment.
You can access many healthcare specialists located far away from your hometown.
What Includes Telehealth services?
You can get many telehealth services that will ease your health care. It would help if you looked at the below-mentioned main points to use the telehealth services for your better health care and fitness goals.
Talk to your doctor live over your phone or video chat for a health-related consultation.
Sending or receiving messages using Email, secure messaging, secure file exchanging, etc.
Various technologies enable your doctor or health care team to monitor your health remotely.
You can get lab tests or x-ray images.
You can get mental health treatment, including counseling, medication management, and online therapy.
It helps recur conditions like migraines or urinary tract infections.
You can get help with skin conditions.
You can get prescription management.
It's the best way to solve urgent care issues like colds, coughs, stomach aches, etc.
You can get a post-surgical follow-up.
You can get physical therapy or occupational therapy.
Conclusion:
Telehealth therapy is a great way to take care of your health if you cannot go outside for many reasons. Technology has the future to improve the quality of health care. Health care is easily accessible to more people all around the world. Telehealth services may provide opportunities to make health care more efficient with better coordination.
Telehealth services are still relatively new, but it's growing. For example, studies have shown that telephone-based support and tele monitoring of vital signs of people with many diseases reduced the risk of death and hospitalization for heart failure and improved quality of life.
Are you looking to meet our Nurse Practitioner online? Schedule an appointment with Lilian Laimo by calling the office at (623) 910-3171.
Contact Us
Request an appointment
Submit your contact details