Telehealth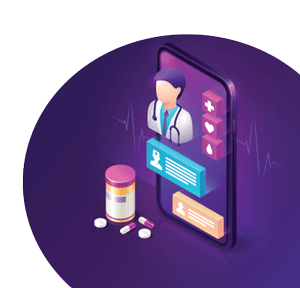 What is Telehealth
Imagine waking up with a rash or cough, making an appointment with your healthcare provider, and then being diagnosed and prescribed medication all in the same day, without having to leave home. Thanks to telehealth technology, you can get clinical healthcare from almost anywhere. Telehealth allows patients to eliminate the cost and commute to the medical clinic, as well as long wait times in the waiting room. Now, you can discuss your medical concerns and get the answers to your questions all in the comfort of your own home or office.
Optimal Health Medical Clinic is here to help you obtain complete health from home or anywhere, without visiting the hospital. Even at work during office hours, or late at night, you will receive 24/7 on-the-spot medical solutions with telehealth remote services for your and your family's health needs.
We are not only limited to Mesa, Glendale, Gilbert, and Phoenix but ready to serve in and around Arizona! As technology advanced, we too made progress in treating our patients. Just use your smartphones, or laptops to have our telehealth remote services. Of course, there are many benefits that come with telehealth remote services, which include –

Time-saving
Easy to book an appointment
Control the spread of illnesses
More convenient than a physical visit
Quick and easy sessions
Cost-effective
Just a click away
Common conditions treated and services offered via telehealth include:
Medication refills and management
FMLA paperwork (same-day)
Weight management and dietary guidance
Chronic disease management
PrEP
STDs
UTIs
Yeast infections
Bacteria vaginosis
Common skin infections
Acne
Animal bites
Ear infections
Testosterone replacement
Depression and anxiety disorders
Heartburn
Ordering screening labs and imaging tests
Common cold
Fever
Flu
Allergies
Asthma & respiratory problems
Headache
Insect bites
Nausea or vomiting
Rash
and much more
Whatever the condition, our telehealth experts in Mesa, AZ are available round the clock to make every patient comfortable and convenient to talk to and have timely treatment. To book an appointment, call 623-223-8784!
Contact Us
Request an appointment
Submit your contact details